Music Theory for Bassists
Hey there, bass enthusiasts! Have you ever wished to master the bass guitar without investing endless hours searching for answers or spending a fortune on lessons and courses?
When it comes to learning bass guitar, you have various options:
Dedicate more time to perfecting your skills

Invest in costly education through university degrees, online lessons, and other resources

Rely on time-consuming free materials, such as YouTube videos
Nevertheless, each method has its drawbacks.
Paid learning might be slow, as educational institutions and businesses want to keep you around as long as possible for their profit. Assessing the qualifications of your teachers is also crucial since they are the ones you're learning from. If the best teachers could precisely guide my improvement, I'd be more than happy to compromise on other aspects.
Free resources are almost always worse than paid ones. Often, they provide limited information as part of a marketing strategy to entice you to purchase their main product. Keep in mind that solely relying on YouTube won't yield substantial improvements.
What does that leave you with then?
What you really need is a knowledgeable mentor who has put in the effort to become a master, made mistakes (so you don't have to), and can guide you on the right path.
Great news! I have a proven method to help you excel in your instrument…guaranteed!
I have documented my 10+ years of dedicated learning and countless challenging hours to help you fast-track your learning journey and achieve results more efficiently!
I've spent countless painful hours and 10+ years of dedicated learning to get where I am, and I wrote it down so that you can hopefully shortcut your learning journey and achieve quicker results! 
If this sounds ideal, these bass guitar books are for you!
"Save a fortune on tuition fees with this book."
With 10+ years of experience in private lessons, university music studies, and theoretical books, I've compiled all the useful knowledge I've gathered throughout my learning journey, ensuring you benefit
"Progress more efficiently and see results faster."
As you won't be spoon-fed information, you'll achieve results more quickly.
"Stand out among your peers."
If you read this book while attending university, you'll excel in your class due to the advantage you'll have over your peers.
"Useful for exams like ABRSM, RGT, Rock School, and other music areas."
Without a skilled teacher to explain the content logically and understandably, exams can become memory tests rather than knowledge assessments. This book offers a thorough understanding to help you rely less on memory for exams like ABRSM Grade 5 theory!
"Become a master of your craft or at least outshine your competition!"
The ultimate goal for a musician is to be one with music, create a seamless connection between yourself and your instrument, and fluently, coherently, and artistically speak the language.
Be your own artist, and avoid imitation – this is the key to outperforming your competition and enjoying a long, healthy career in music.
I recommend starting on my first book 'How to Master the Electric Bass 'which contains:
An essential listening list for the main genres
A vital equipment guide detailing what you need to play bass guitar
How to set up a bass guitar that's suited for your playing style
How to play the bass guitar, using different playing techniques (fingerstyle, plectrum, slap)
How to memorise the fretboard and have complete freedom in your playing
Understanding rhythms and how to count them
Understanding scales and harmony in a way that's logical and easy to follow (very useful for analysing tunes or coming up with chord progressions!)
You can even read the first 30 pages for free by signing up for my email list (don't worry, I seldom send emails and only send ones that I know you'd appreciate!)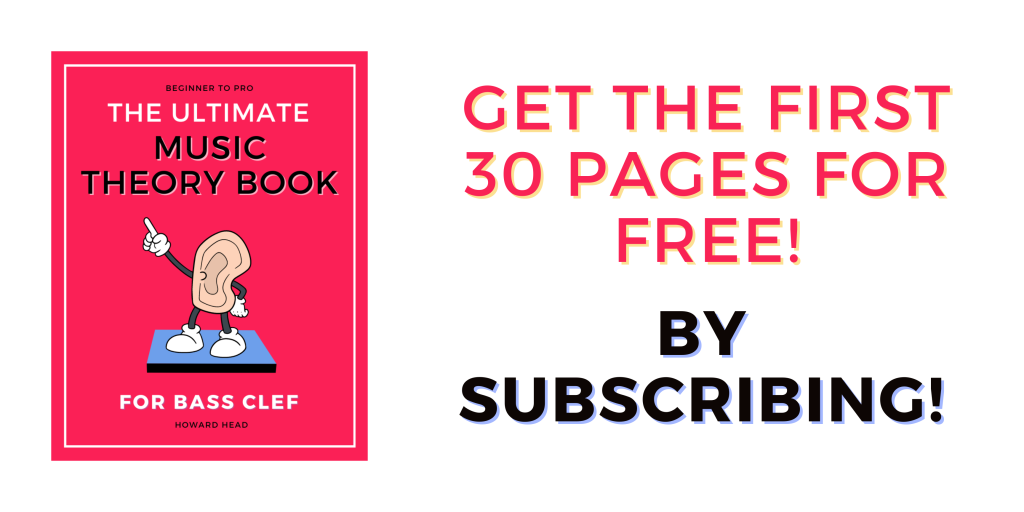 You can buy the book as an ebook (PDF) or paperback. If you buy the paperback, you also get the ebook!
In addition to the book's content, I've created audio tracks for you to practice along with the exercises. Upon purchasing, the audio files are available for download alongside the ebook. You can also access them on this YouTube playlist, which makes it easier to switch between exercises and adjust the audio files' speed.
After purchasing a bass guitar book, you can email me with any music-related questions, and I'll be happy to help.
If you're struggling with a specific technique, we can arrange a lesson either online via Zoom or, if you're in London, a face-to-face session.
Providing some form of personalized learning support is essential, as everyone is at a different stage in their musical journey and has unique needs.
The book is incredibly comprehensive, and I guarantee it will improve your bass playing, or you can have your money back! Give it a try and see if it can benefit you!
Once you've mastered your instrument using the first book, the second book, 'Mastering the Language of Music: Interval Ear Training,' will help you:
Enhance your understanding of pitches, chords, melodies, scales, and modes
Improve your improvisation skills and overcome finger paralysis
Interact more easily with other musicians
Know which scales to play over different chords
Encourage you to play what you feel
Use intervals to create better melodies
Identify chords by ear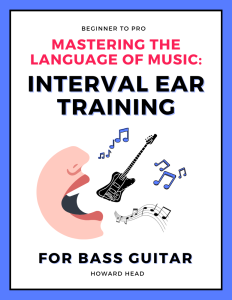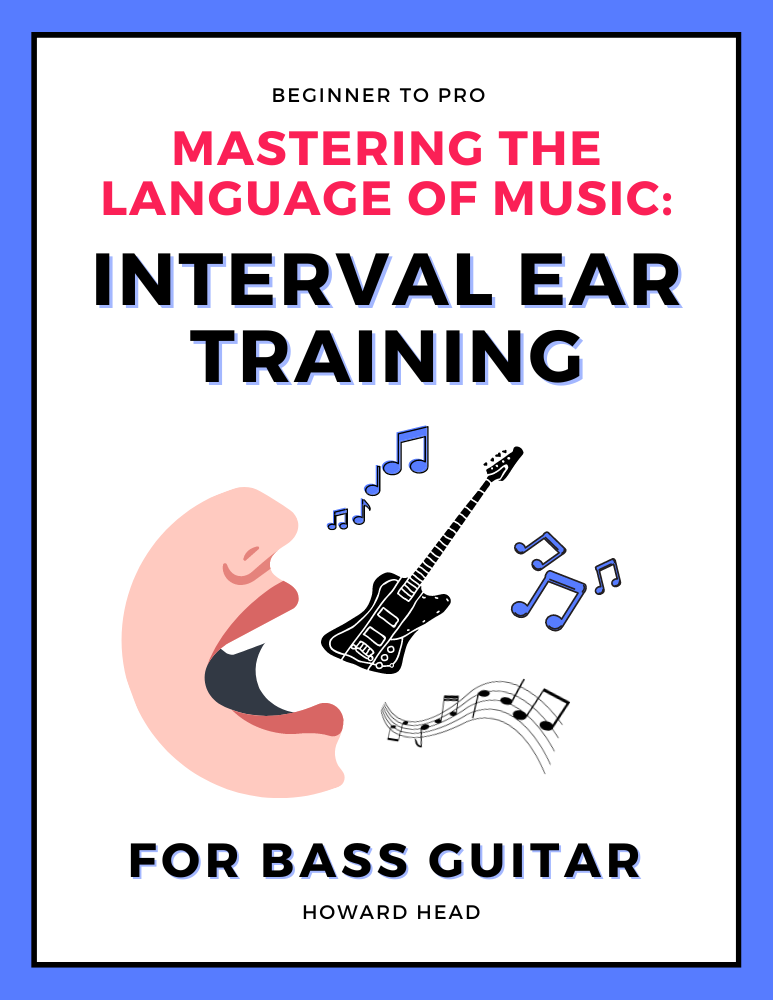 The Learning Process in Music is as Follows: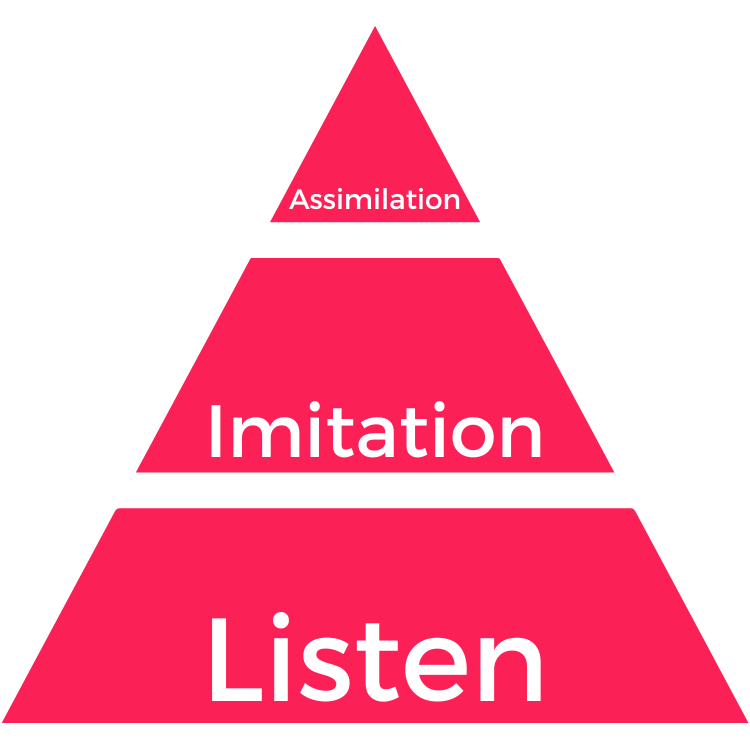 The first book teaches you how to play your instrument, while the second book focuses on understanding and playing music as a language.
The learning process in music follows these steps:
Listening: Appreciate and get inspired by others' music before diving into analysis
Imitation: Analyze and copy music; the first book focuses on this, teaching different techniques and ensuring you're proficient on your instrument
Assimilation: Understand information and ideas and adapt to the environment; the second book aims to help with this, enabling you to improvise, adapt, and react to things in the moment, creating authenticity
Commitment and dedicated practice are necessary to achieve creative mastery. This book's goal is to provide you with the tools and exercises needed to reach this exceptional level. You don't have to play complex music to impress others; playing simple, appropriate music and reacting in the moment can lead to exceptional, authentic, and meaningful creations.
If this resonates with you, consider reading a music theory for bassists book.
P.S. I also offer a general music theory book without tabs for those who want a challenge and wish to improve their sight-reading skills.
P.S.S. Feel free to message me anytime to discuss your personal needs and determine if this book is right for you!
Download the tracks for the Bass Guitar Book exercises!
Download the Interval Ear Training tracks